History of Photography
The Portraitist
Published December 27, 2009
Note: There is an artistic nude below, for those who are offended by such things.
"I drifted into photography like one drifts into prostitution. First I did it to please myself, then I did it to please my friends, and eventually I did it for the money." Philippe Halsman
On Portraits
These days, no part of photography leaves me more disinterested than portraiture. Of course I realize it's the bread-and-butter of many photographers, both professional and amateur—the ever-so-carefully-posed-and-lit, bore-me-to-tears portrait. Nice ones are hung over mantles and in corporate boardrooms. Bad ones too. It doesn't matter, they all look the same. Photographers spend years perfecting their portrait lighting and set-up techniques so they can shoot portraits exactly like every other portrait. If I have to see another newborn-on-daddy's-forearm; executive-in-chair-in-front-of-bookcase-body-tilted-right-head-tilted-back; or family-of-four-in-casual-sportswear-barefoot-on-hill-in-careful-triangular-arrangement, I think I'll scream. Yes, I know it's business. So is making sausage, but I don't want to see that either.
When forced to view a series of portraits I find myself scratching through all the sameness, desperately looking for some minute bit of difference in technique. I almost screamed one day, when some photographers were deciding which of an endless series of nearly identical shots was the best: "This one's a bit warmer", "I like the head tilt into the light in this one", and on and on. I literally flipped my computer over to youtube and pulled up the classic 1984 Apple commercial (if you don't know it, click on the link), thinking "what have we become!" I had this mental image of all photographers dressed in identical gray marching in lockstep as Big Brother (or Sister Leibovitz) inspires them to sameness. I hate sameness. People can get a sameness picture at Walmart: 8×10 print for $8. Making those is not what most of us got into photography for.
As usual, when I find some aspect of photography boring, I only have to look to the past, at what we've largely forgotten, for inspiration. I'd written an earlier article, The More Things Change, about the first street photographer (Rejlander) and the first photographer to pose his portrait subjects naturally (Dodson) who worked back in the 1800s. But, for what I consider the peak of portraiture, I didn't need to go back so far in history. Oddly enough, the person I consider the greatest, most unique portrait photographer of all time developed his techniques during those decades of uniform sameness, the 40s and 50s. And I was lucky enough to find a copy of his long-out-of-print On the Creation of Photographic Ideas through a used bookseller. It's inspired me as much as anything I've run across lately, and I thought I'd share some of what I've learned.
The Portraitist
Philipe Halsman lived a fascinating life, the details of which are too long to go into here (click on the name for his Wiki). Already a recognized photographer, he immigrated to the U. S. in 1942 and immediately began working for Life magazine. By the end of his career he'd shot hundreds of covers for Life, Look, The Saturday Evening Post and other magazines. His portraits of Einstein, Dali, Marilyn Monroe, Richard Nixon and hundreds of others are icons. In 1958 Popular Photography named him one of the 10 greatest photographers, and his work is exhibited in, well, everywhere that can get it, including the Smithsonian. But this isn't about Halsman's career, it's about how he created his photographs.
"Most people stiffen with self-consciousness when they pose for a photograph. Lighting and fine camera equipment are useless, if the photographer cannot make them drop the mask, at least for a moment, so he can capture on his film their real, undistorted personality and character." Philippe Halsman
Halsman believed that the photographer was not just a technician, the photographer was a psychologist and an artist. His goal in a portrait was not just to show what the subject looked like, it was to show what they were like. Posing, as he described it, "can't be done by pushing the person into position or arranging his head at a certain angle. It must be accomplished by provoking the victim, amusing him with jokes, lulling him with silence, or asking impertinent questions which his best friend would be afraid to voice." His goal was to create an image that revealed the subject's personality rather than just physical appearance.
"A good portrait is incredibly hard to create, there is too much temptation to pander to the individual rather than portray them as they really were." Philippe Halsman
The techniques he used to accomplish this goal were numerous. The one most widely recognized was having the subject jump at the end of the sitting and capturing it on film. Halsman was photographing famous people who, he said, were constantly on display and had developed public masks that they put on for the photographer. By getting them to do something completely unusual, such as jumping in the air, the masks fell away and personality became visible.He must have been a good psychologist because he persuaded Richard Nixon, the Duke and Duchess of Windsor, and Judge Learned Hand (in his mid-80s at the time) among many others to jump for the camera.

Above: Philip Halsman with Marilyn Monroe (left), The Duke and Duchess of Windsor (right) Below: Bridgette Bardot (left), Richard Nixon (right)
There was a lot more to it than just jumping. Halsman probably made more photographs of Marilyn Monroe than any other photographer. He talked once about her first sitting: that she was completely frozen with a fixed model smile. During a break Halsman told all the male assistants to start competing for Marilyn's attention, to flirt outrageously. Within minutes he had gotten the natural, unposed look that made her famous. At another photo session he sat her at a desk in front of an assistant and told her to pretend she was interviewing for a part in a film she really wanted to make. Again, he got natural, life-like pictures rather than the posed look other photographers were getting.
Halsman's Rules
In his book On the Creation of Photographic Ideas Halsman writes of the three things that make a portrait interesting: The Added Unusual Feature, The Unusual Technique, and The Missing Feature. Jumping is certainly an example of unusual technique, but it is the Unusual Feature that often makes Halsman's portraits so memorable. He often used props to emphasize the subject's interest: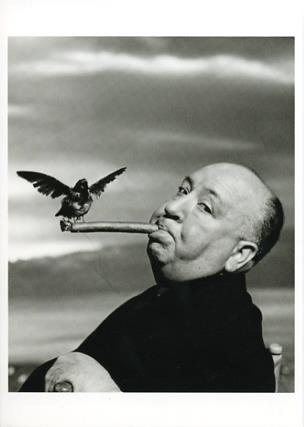 Above: chess champion Bobbie Fischer (left), Alfred Hitchcock (right) Below:The Birds actress Tippie Hedren (left), Audrey Hepburn (right). All examples of the Unusual added feature.
The missing feature can be just as dramatic, if not more so. In his self-portrait Halsman combined both the Missing Feature (his body) with an unusual feature (the tripod base for his large camera) for an effect showing he was the camera. And when Halsman's editors sent him to make a portrait of pianist Vladimir Horowitz, I doubt they were expecting him to return with this shot, for example:

Self Portrait (left) and portrait of Vladimir Horowitz (right)
Probably the most famous of Halsman's photographs came from his long-term collaborations with Salvadore Dali. In Voluptas Mors (In sensual delight – death) is a portrait of Dali with the Unusual Feature of nude models arranged to form a skull in the background (posing and lighting the models according to a Dali drawing). If it looks a bit familiar, it may be because the skull portion of the picture was used for the back of the Death's Head Moth in all the movie posters for Silence of the Lambs and a similar arrangement recreated for the movie poster of The Descent. The added feature here not only makes the portrait an amazing photograph, by its scale it emphasizes that Dali's art is the real subject – it's more emphasized in the photograph than the artist is.

In Voluptas Mors
Dali Atomicus was photographed in 1948, featuring Dali with his painting Leda Atomica. Unusual Features abound: flying cats, water, and easels for a few. Techniques, in those pre-post-processing (I think I just made up a good word) days, included suspending objects with piano wire, (and an assistant's off-camera hands holding the chair) while other assistants threw pails of water and cats across the studio as Dali jumped. (In case you didn't think of it, according to Halsman, the Missing Feature is gravity). If it sounds complex, it was: there were 26 takes over 5 hours with the crew mopping up between each take, while Halsman developed the print. The end result is a picture that was one of the most reproduced of all time.

Dali Atomicus
"What do I want to capture most in my photographs ? Human emotion and the essence of human being. I am less interested in forcing my subjects into a visually interesting form." Philippe Halsman
Now don't get me wrong—I'm not suggesting you show up to your next portrait shoots with a few buckets of water and a cat or two. Even Halsman took more mundane portraits when he felt it appropriate like the ones of Albert Einstein and Georgia O'Keefe below. But thinking outside the box may get you something less ordinary than one more photo of an executive posed 30 degrees to the left, sitting in a library chair. And if my little article today has prevented just one more carefully-positioned, overdressed-but-barefoot, family-in-their-garden portrait, or if one less newborn finds itself perched precariously on its father's forearm for a baby picture, then it's been a day's work well done.
Author:
Roger Cicala
I'm Roger and I am the founder of Lensrentals.com. Hailed as one of the optic nerds here, I enjoy shooting collimated light through 30X microscope objectives in my spare time. When I do take real pictures I like using something different: a Medium format, or Pentax K1, or a Sony RX1R.
Posted in History of Photography